The H-D® Pan America™ and Adventure Touring
A Guide for the H-D Pan Am Near Las Vegas Harley-Davidson

Why adventure touring?
Although adventure touring may be a new idea for most Harley-Davidson riders, the new Pan America is now opening the door for a new definition of "road trip". One of the greatest feelings for a motorcyclist is the thrill of gearing up, loading your motorcycle, and hitting the open road. We can all relate to that sense of freedom that it brings and the thrill of being a part of your surroundings. The temperature, the wind, and the elements surrounding you. But what if we told you that when the pavement ends, the REAL adventure begins?

Welcome to the wild world of adventure touring.

This is a new world of motorcycle riding that requires a different type of motorcycle, specially designed ADV riding gear, some additional essentials to pack, new skills required for safely riding, and a whole new community to explore off-road riding routes. Adventure touring bikes are a hybrid between a street bike and a dirt bike that give riders the option for long-distance touring on both on and off-road routes.
Let's start with some of the features of the Harley-Davidson Pan Am that make it suitable for off-road adventure touring, but that also makes it one of our highest-performing bikes on the pavement.
H-D Pan America Features
What makes the H-D Pan America the perfect machine to allow for long-distance comfort and off-road performance? It's a good place to start when introducing ADV riding to Harley-Davidson enthusiasts, because they need to trust that this bike is going to go the distance and be a fun experience.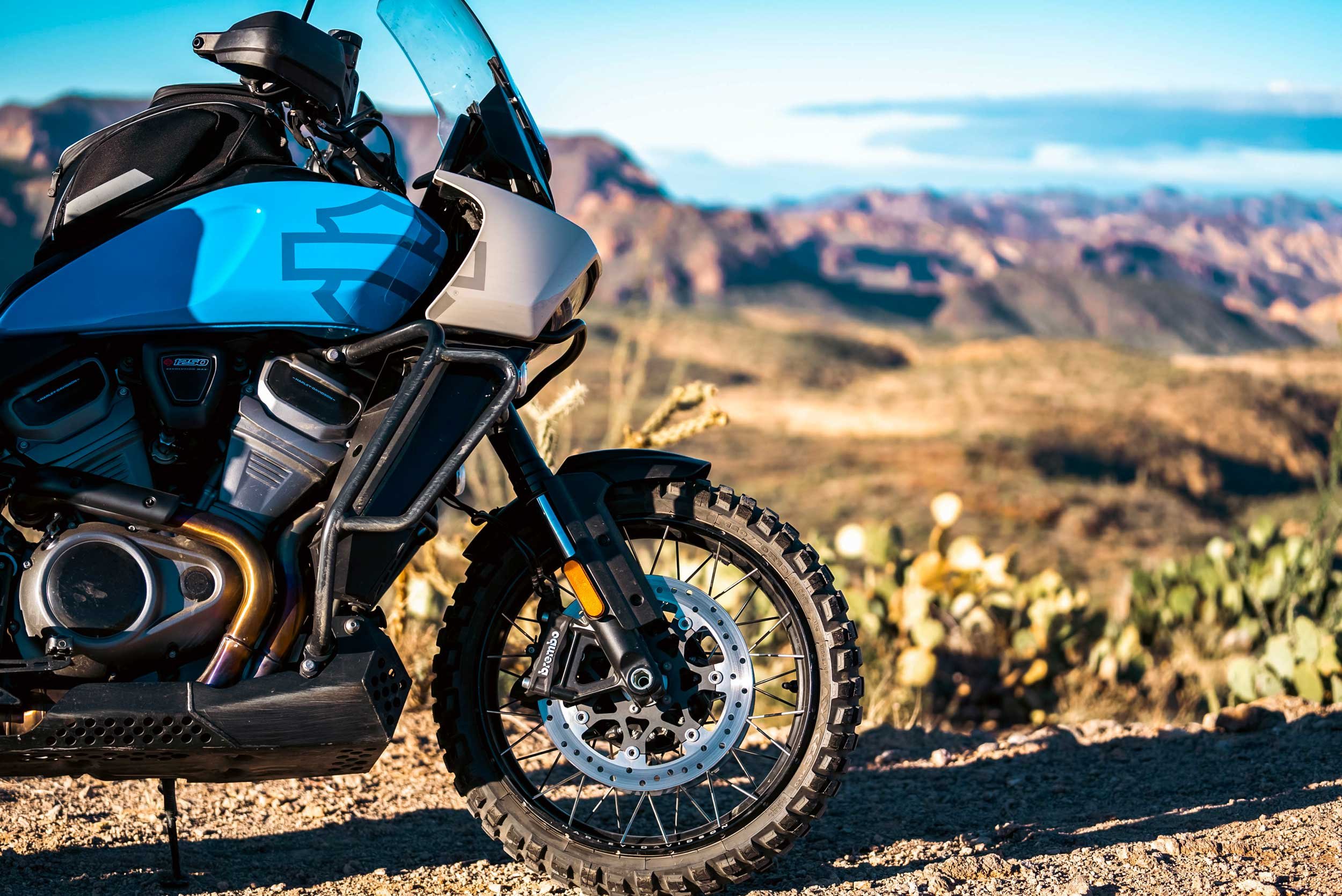 Here are our top 6 Harley-Davidson Pan Am features:
Adaptive ride height, for better clearance off-road and a better fit for various riders

Game-changing technology that automatically raises the bike while riding and lowers it when coming to a stop. This is helpful for riders with a shorter inseam who otherwise may not be comfortable on a taller motorcycle.

Heated hand grips and hand wind deflectors, for a more comfortable ride and protection from the elements

Warm and toasty hands on those cold weather riding days.

Semi-active front and rear suspension with vehicle load control making it one of the highest-rated adventure touring bikes for having a passenger and being fully loaded down

The suspension automatically adjusts to the recommended level based on the load being carried without the need for special tools or manual adjustments. For example, if a passenger hops on, the suspension will adjust to a more comfortable setting.

Adaptive Headlamp for better visibility when cornering

A second headlamp (below the main headlamp) automatically turns on and off based on the lean angle of the bike.

A multi-position rear brake pedal that allows you to quickly adjust brake position for riding street and off-road

The higher position is designed for off-road riding where the rider is frequently standing up.

Pre-set ride modes and customization options for dialing in the bike to your specific riding style from suspension, to engine braking and throttle response

Easily switch between modes while riding. This allows you to select a mode designed for specific riding environments. For example, wet weather conditions – there's a mode for that! You will immediately feel the change, almost as though the bike is 'helping' you.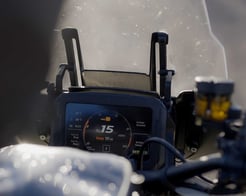 In addition to these features that are new to any Harley-Davidson motorcycle, the Pan America debuts the all-new Revolution Max 1250 engine. Read more on the Harley-Davidson website about the difference this engine makes and an in-depth breakdown of the new performance features.
As you can see the liquid-cooled 150hp, variable timing, and geometry of the powertrain is a departure from the old-style classic Harley-Davidson.
When purchasing a Pan America, there are a few bike customizations you may want to consider depending on whether you plan to do more off-road or on-road riding.
Off-Road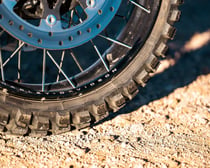 Many ADV riders who spend the majority of their time off-road prefer a shorter windscreen or even no windscreen at all. This can increase visibility which some riders prioritize over wind protection at speed.
Also, consider soft cases for packing; soft cases are expandable (carry more) and weigh less; they are also more forgiving in the event of a tip-over situation. You may also want to get the more aggressive tread knobby-style tires for better off-road traction and tubeless laced wheels. If you plan to be off-road in more extreme riding situations, laced wheels are recommended as the stronger option. Definitely consider the Screaming Eagle air filter upgrade to reduce dust intake as well. The stock skid plate is a great starting point, but upgrading to the more durable one will better protect your bike from rocks and other off-road obstacles.
On-road
A higher windscreen will provide better coverage from the wind and rain. The hard cases for the Pan America offer an easy way to organize and access your gear; hard cases are also lockable for added security over soft bags. The aluminum cast wheels are a sturdy option for primarily on-road pavement riding with specially designed Michelin Scorcher tires.
Both
Just like all Harley-Davidson motorcycles, you've got customization options. With the Pan America being a taller motorcycle, getting a seat that fits your height will make a world of difference. With on and off-road riding you'll be standing up a lot, another great option is to get risers for the handlebars and adjust them a bit for a more comfortable riding position while both seated and standing.

Once you've got your H-D Pan America all dialed in, you're ready to explore the exciting new ADV riding gear available that will make your adventure touring experience much more comfortable.
Adventure Riding Gear
Once you know what kind of riding and bike customizations you want/need to facilitate your preferred adventure riding experience, it's now time for an introduction to ADV riding gear and some of the differences from other motorcycle riding gear.
ADV Helmets
Starting from the top down, the first thing you may want to evaluate is your motorcycle helmet. Although a regular street helmet will do the job, there are some features of ADV helmets that make them ideal for off-road adventures. Several features include; modular options, extra vents for better airflow, they're lighter, and have a brim on top for blocking the sun.
Jacket + Pants
Adventure touring pants and jackets are different from your traditional riding gear because of their versatility for different climates and materials. Most are made from a mesh material that offers more breathability for off-road riding. They also come with liners for rain protection and which keeps the gear insulated. Almost all ADV jackets and pants have built-in vents for keeping your body ventilated in hotter temps and due to the more active riding style, you may find you use them even when it is cooler outside. Perhaps one of the most beneficial features is the built-in padding to most jackets and pants that range from various back, shoulder, elbow, hip, and knee padding. You may also want to get a size that allows for additional gear like knee braces.
Adventure Touring Boots
Over-the-ankle boots are stereotypical for regular motorcycle touring, but when hitting the trails, it is wise to consider an over-the-calf boot for extra protection. These come in various flexibilities for different uses. Some may be better suited for wearing while off the bike and have a bit more flexibility while some may be a bit more durable with less flexibility for added protection. It may feel like you're wearing downhill ski boots but the rigid construction is built for protection and adventure where anything can happen on the trail (including tip-over situations).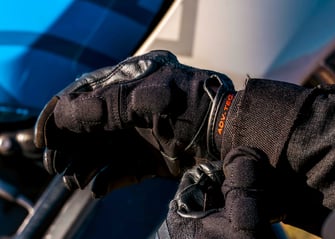 Gloves
There is always a plethora of glove options when it comes to motorcycle riding gear and we just want to offer a few tips on what to look for. Things you would want from a glove are better protection and padding, and more durability that makes them warmer but can lessen dexterity.
If you haven't worn off-road gloves, these are usually mesh, making them more breathable. They also tend to be thinner for better dexterity and will protect you less in cold/wet weather. You may need two pairs as there are trade off's.
Additional Items
Something to think about when riding off-road is a different kind of safety. There are several things we recommend adding to your gear collection. First, a hydration pack. These can be great for additional storage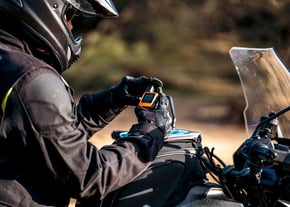 as well, but with ADV riding being a bit more physical, and out in locations with fewer establishments, it's always good to carry water with you. Finding a GPS satellite device that has an SOS feature is also an important thing to consider carrying when adventuring off-road. This will allow you to send an SOS with GPS coordinates in case of an emergency. So not only having it but keeping it easily accessible (in your jacket pocket) is critical.
We'll cover a couple more safety things to pack when planning your adventure trip in this next section.
Packing for Adventure Touring
One thing you may have decided on when initially purchasing your Harley-Davidson adventure touring motorcycle, is what kind of bags you wanted. So whether or not you choose hard or soft bags, these are some of the things you should include in your packing list for both on-road and off-road touring. Getting a good first aid kit is one of our top recommendations. This is great for all types of riding but when you're off-road it's better to get stuck with one than without one.
Since you won't be passing many gas stops on the trail, it's always a good idea to carry some extra fuel on your bike. This along with a good set of tools will make sure that in a pinch, you're able to maintain your motorcycle enough to get back out onto the main road. We suggest a few other items like a tire repair kit, portable tire pump, battery jumper, and some trusty zip ties. Getting a tool kit that has various Allen wrenches, socket wrenches and sockets, pliers, JB weld, safety wire, extra bolt pack, and some tire spoons. Note that some of these things may not be required for less technical riding but will make sure that no matter what happens to your adventure bike, you'll be prepared to get through it.
So you've got the motorcycle, the gear, and you're all packed up and ready to go! But where do you go? You've got your favorite cruising routes, but where do you find the trails? How do you know what skill level is required?
ADV Riding Digital Tools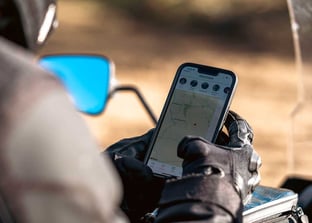 We're lucky to live in the digital age and there are more than enough resources online and apps for your phone to help you find routes for adventure touring. One of the most popular resources is the Back Country Discovery Routes. This website provides a great tool for finding off-road routes, lodging, gas and food, points of interest, the best time of year to ride, permits required (yes, always good to research if you need a permit for certain trails) and downloadable GPS maps.
Another three great apps for routes are:
REVER
Build your own routes, on and offroad while discovering all types of routes around the country. Next time you're planning a road trip, plan it in REVER.
OnXoffRoad
Everything you need to know — from landowner details, to trail open dates, to weather forecasts — is all in one App designed for off-roaders.
AllTrails
The popular hiking app also includes OHV and off-road driving trails. Get trail information, weather forecasts and waypoints. Go PRO and you can download trail maps!
Another great source for finding routes and creating your own maps is the H-D Ride Planner. Search popular destinations and create your own routes, then you can download the GPX files to the navigation system on the bike or share with friends.
Once you've got some new off-road destinations planned out, you're ready to hit the road! Many of your favorite rides have off-road routes to be found nearby.
Local Las Vegas Adventure Touring Routes
Bitter Springs Trail Back Country Byway
This fun back country road will take you out towards the Colored Rock Quarry and Buffington Pockets where we think there may be a way to connect on the Pan America, but we have yet to explore. Still, if you're in the mood to head out the 167 around Lake Mead, we recommend a play time out and back on this route. Lot's to explore and beautiful rides out to Valley of Fire while you're out.
https://goo.gl/maps/Hp2RAJi9PwLbMBk78
Logandale Trails
The Valley of Fire OHV Loop takes you from the Logandale Trails staging area out to the Indian Pictographs and although Google Maps routes you back the way you come in, you can see a trail back up to the beginning on AllTrails. This is a bit more challenging route and has dirt, sand, slick rock and loose gravel along the way. A fun and exciting adventure but a bit more challenging for the Pan America.
https://goo.gl/maps/bjbAfMbqo9jXP3h96
Lime Kiln Canyon
For those looking for a longer Pan America route, we've found Lime Kiln Canyon OHV Loop. Crossing into Arizona outside Mesquite, this trail is supposed be a remote and scenic route with big ravines to ride through. Go prepared for this route and perhaps plan to spend the night in Mesquite.
https://goo.gl/maps/3D7Es8pPn6KUAYzE8
Disclaimer: These are routes we would be thrilled to explore on the Harley-Davidson Pan America. These routes are merely suggestions and we do not guarantee that anyone has successfully ridden them on an H-D Pan Am. If you attempt, please ride within your skill level and feel free to reach out to us with feedback on how your adventure went!
ADV Community
Just like the community you've built up around riding Harley-Davidson motorcycles on the street, owning an H-D Pan America will open up a whole new group for riding. There is a different type of rider that gets drawn to off-road adventure touring, and they have a whole different set of resources and values.
Events
To start, check out the Harley-Davidson Pan America Adventure Tour for H-D sponsored events around the country. These are great opportunities to meet other Pan America owners and experience what the bike has to offer. The teams that they have on-site are some of the most familiar with the new Harley-Davidson adventure touring motorcycle and are quick to share their knowledge.
These are a few of our favorites out west:
Get On! ADV Fest
-
Mojave Desert
Three days of friends, fun, and world-class adventure riding in the rugged Mojave Desert.
Bonnier Adventure Rally
-
Julian, CA
A multi-day challenge for riders of any skill level and their bike.
Catch the demo fleet at other popular events like Sturgis Rally and Daytona where they are hosting H-D Pan Am owners' rides.
Groups / Forums
Other than events, there are loads of more localized off-road ADV groups on platforms like Facebook and other digital forums like ADVRider.com. Make friends, get riding tips for certain areas and there are a variety of resources for those at all levels of their adventure touring journey.
Most importantly, there are plenty of buddies to take out and hit the trails with, and with adventure riding, you don't want to get caught solo in a pinch, so make friends and always ride with others.
Our final suggestion for finding a community, is in seeking out ADV rider training.
Adventure Touring Training
The last thing we want to stress in the wild world of adventure touring with the H-D Pan America, is to seek out training. Any skills you can build are tools in your toolbelt when riding motorcycles. Harley-Davidson is releasing a new Adventure Touring Rider Course through select dealerships to help specifically get Pan America owners ready for riding offroad. It's like our Riding Academy program, but for off-road.
As they begin rolling this product out, there may not yet be a location close to you. Another leader in ADV training is RawHyde Adventures. Not only will you be growing your skills at these trainings, but you will be meeting other riders you can plan adventures with.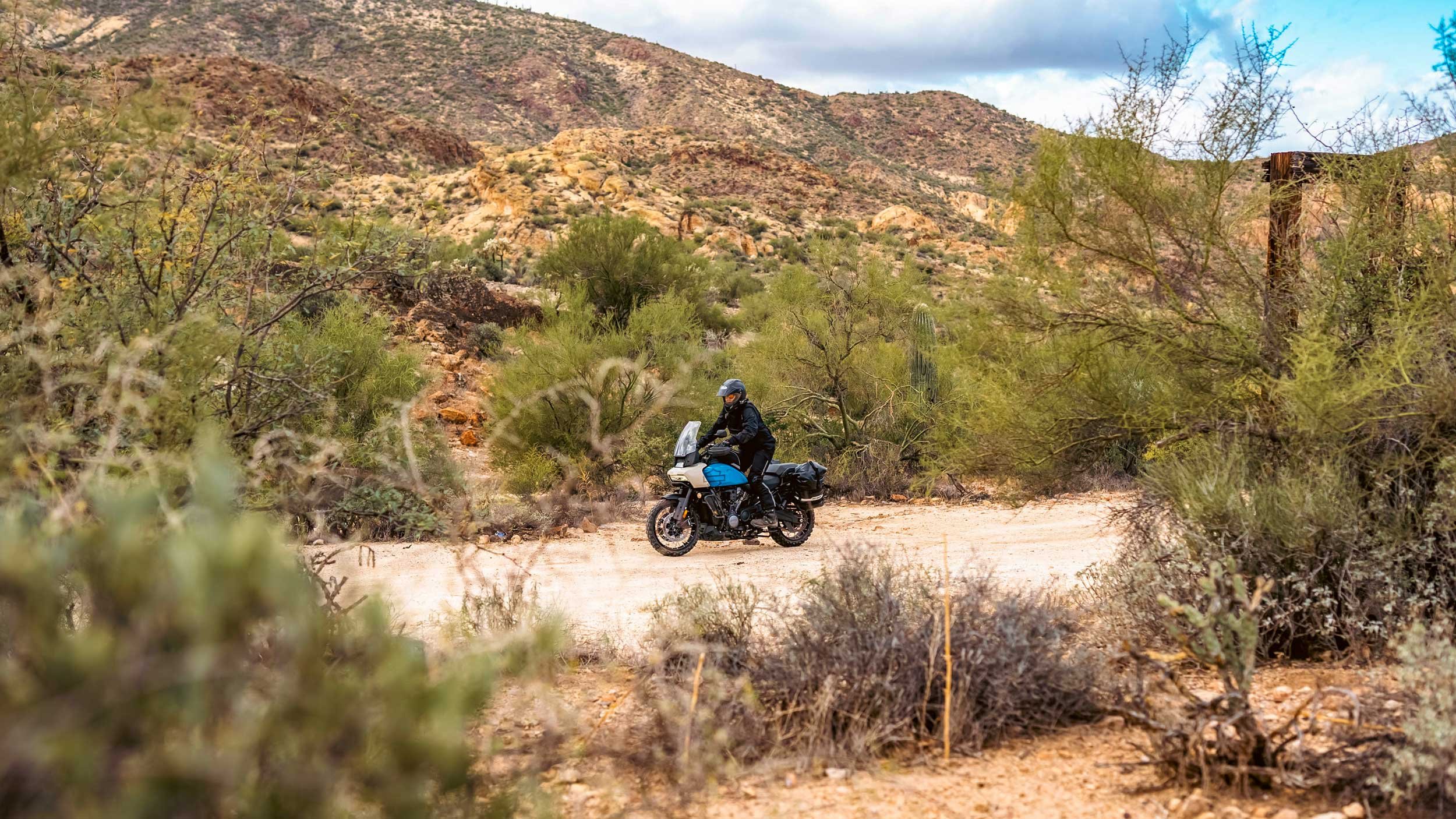 One last suggestion, if you aren't able to get into another class, is the new MSF Adventure Bike course.r new training opportunity is the MSF Adventure Bike course.
---
We're excited about the new Harley-Davidson Pan America and we hope that our customers who are interested in adventure touring enjoyed this article and feel like you have a place to kickstart your adventure. Remember, with the H-D Pan America adventure bike, everywhere is a road.
Test ride the new Pan America in-store at Las Vegas Harley-Davidson!