The Harley-Davidson Extended Service Plan Offers Customizable Coverage for Your H-D Motorcycle
Why You Should Consider H-D's Extended Service Plan When Buying a New H-D Motorcycle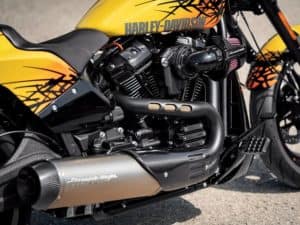 As a safe and responsible rider, you need to be prepared to handle whatever the road throws at you. Las Vegas Harley-Davidson wants to make your ride as smooth as can be with coverage from the H-D factory-approved Extended Service Plan. Your new H-D motorcycle is an investment that deserves protection from wheel to wheel. The Harley-Davidson Extended Service Plan delivers supreme coverage for up to seven years with no mileage cap.
Whether you're cruising down the Strip or rolling across the state, you'll ride easy knowing your new H-D motorcycle is fully protected from the unexpected.
Comprehensive Coverage Across the Country
If your bike encounters issues, the Extended Service Plan will get you back on the road. Our comprehensive coverage is designed with your major components, parts and systems in mind. We'll make sure your repairs are conducted by the best factory-trained experts at your local Harley-Davidson dealership using only H-D Genuine Motor Parts. If you break down far from the Strip, don't worry. Our Harley-Davidson Service Center will help you find the closest Harley-Davidson dealership to get your repairs completed in no time.
Breakdowns that Don't Break Your Budget
A mechanical breakdown is never convenient, but thankfully, our factory-approved coverage will protect your new H-D motorcycle, as well as your budget. A $50 deductible is all you'll pay for your covered repair. Our expense reimbursement package will alleviate your personal costs, providing you with $75 per day for a rental, $150 per day for food and lodging and cover $200 of towing costs. With reliable coverage and transportation to an H-D dealership, all you have to do is sit back and let us take care of you.
Optional H-D Motorcycle Coverage Available
You can never have too much coverage on the open road, which is why we offer additional coverages that cater to your needs. Our Optional Tire & Wheel Coverage protects your wheels and tires when damaged by road hazards. We also have a Stand-Alone H-D Tire & Wheel Protection plan that increases this coverage to seven years, requires no deducible cost, and even offers expense reimbursements. When we say the Extended Service Plan covers your new H-D motorcycle from wheel to wheel, we mean it.
Protect your bike and your wallet with the exclusive Harley-Davidson Extended Service Plan. Las Vegas Harley-Davidson's experienced service technicians work exclusively on Harleys, and possess the knowledge and expertise to work on your specific bike. Contact us at 888-218-0744 to learn more, or stop in and test drive a new H-D motorcycle today!
Dealership Info

Phone Numbers:

Sales Hours:

Mon - Sat

9:00 AM - 6:00 PM




Sun

10:00 AM - 5:00 PM




Service Hours:

Mon - Sat

9:00 AM - 6:00 PM




Sun

10:00 AM - 5:00 PM




Parts Hours:

Mon - Sat

9:00 AM - 6:00 PM




Sun

10:00 AM - 5:00 PM