Do You Know Your Motorcycle's Service Schedule?
What's the Maintenance Schedule of Your Motorcycle?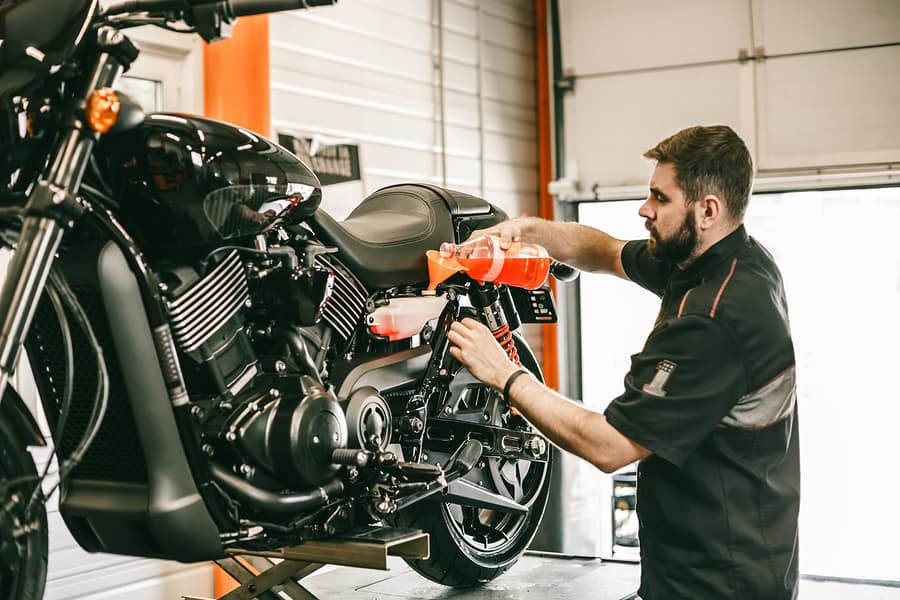 Your motorcycle needs proper maintenance for it to perform optimally. While every motorbike comes with a maintenance schedule from the manufacturer, most people only take it for servicing when there's a problem.
5 Reasons Why You Should Adhere to Your Bike's Maintenance Schedule
1. Longevity
Time can have a devastating effect on the different parts of your motorcycles, ranging from tires to lubricating fluids. It gets worse if you use your bike frequently, which accelerates wear and tear. Sticking to your maintenance schedule improves the durability of your bike by countering the effects of aging and frequent use under harsh conditions. Scheduled maintenance keeps everything running as it should and allows you to enjoy your motorcycle, for longer.
2. Safety
A beaten-down bike is not only a recipe for bumpy and uncomfortable rides but could also result in nasty accidents. By sticking to your motorcycle's maintenance schedule, you avert any accidents that could result from faulty parts. You get to fix any malfunctioning components earlier, giving you the peace of mind and lowering your chances of an accident from faulty brakes or bad tires.
3. Better Riding Experience
A well-maintained motorcycle allows you to ride smoothly. This means you don't experience inconveniencing breakdowns, accidents or unpleasant noises while you are on the road. As your motorbike's performance improves, so does the quality of your rides.
4. Saves Time and Money
When you stick to your bike's maintenance schedule, you are able to have issues identified and fixed before they become severe. This saves you money you would spend on major repairs from costly malfunctions and breakdowns that could have been prevented. What's more, riding an efficient bike keeps your costs down in terms of fuel.
Scheduled maintenance also gives you better control of your time. The predictability allows you to plan for your maintenance early, so you don't suffer the inconveniences of only servicing your motorcycle when it breaks down.
5. Boosts the Re-Sale Value of Your Motorcycle
If you plan on selling your motorcycle, proper maintenance could earn you more money. By sticking to a maintenance schedule, you are keeping it in good condition, therefore, improving its value. You will definitely get more value from a well-maintained bike than a neglected, worn-out one.
Maintenance schedules vary depending on the make and model. To help you take good care of your motorcycle, view its recommended maintenance schedule here.
Maintenance Tips to Keep Your Motorcycle in Good Repair
Below are basic steps you should take to keep your bike running longer.
Check your battery for leakages, clogged terminals, and loose connections.

Ensure your tires are not over-inflated or under-inflated

Replace your bike's fluids as scheduled. This includes engine oil, brake oil, and coolant.

Clean the air filter especially after riding in a dusty environment.

Always keep your motorcycle clean and inside a shelter when not in use as moisture accelerates wear and tear.
Contact LVHD to Schedule Your Bike Maintenance
Las Vegas Harley-Davidson provides maintenance services to keep your motorcycle running as efficiently as it should. For more information about our maintenance services or to book an appointment, contact our service department at 888-218-0744 today. You can also ensure you never miss an update on service specials by signing up for service deal alerts. Simply text "LVHDService" to 31996 to automatically receive updates.
Dealership Info

Phone Numbers:

Sales Hours:

Mon - Sat

9:00 AM - 6:00 PM




Sun

10:00 AM - 5:00 PM




Service Hours:

Mon - Sat

9:00 AM - 6:00 PM




Sun

10:00 AM - 5:00 PM




Parts Hours:

Mon - Sat

9:00 AM - 6:00 PM




Sun

10:00 AM - 5:00 PM