The Ultimate Motorcycle Road Trip Guide
Are you dreaming of hitting the open road on your motorcycle for an unforgettable adventure? A motorcycle road trip is the perfect way to explore new places, meet new people, and experience the thrill of the ride. But before you set off, there are a few things you need to know to make your journey a success.

In this guide, we'll show you how to plan the ultimate motorcycle road trip, from the best routes to the gear you need to pack. Hopefully, whether you're planning a ride with friends, or if you're planning on going solo, you'll be ready for the best adventure yet!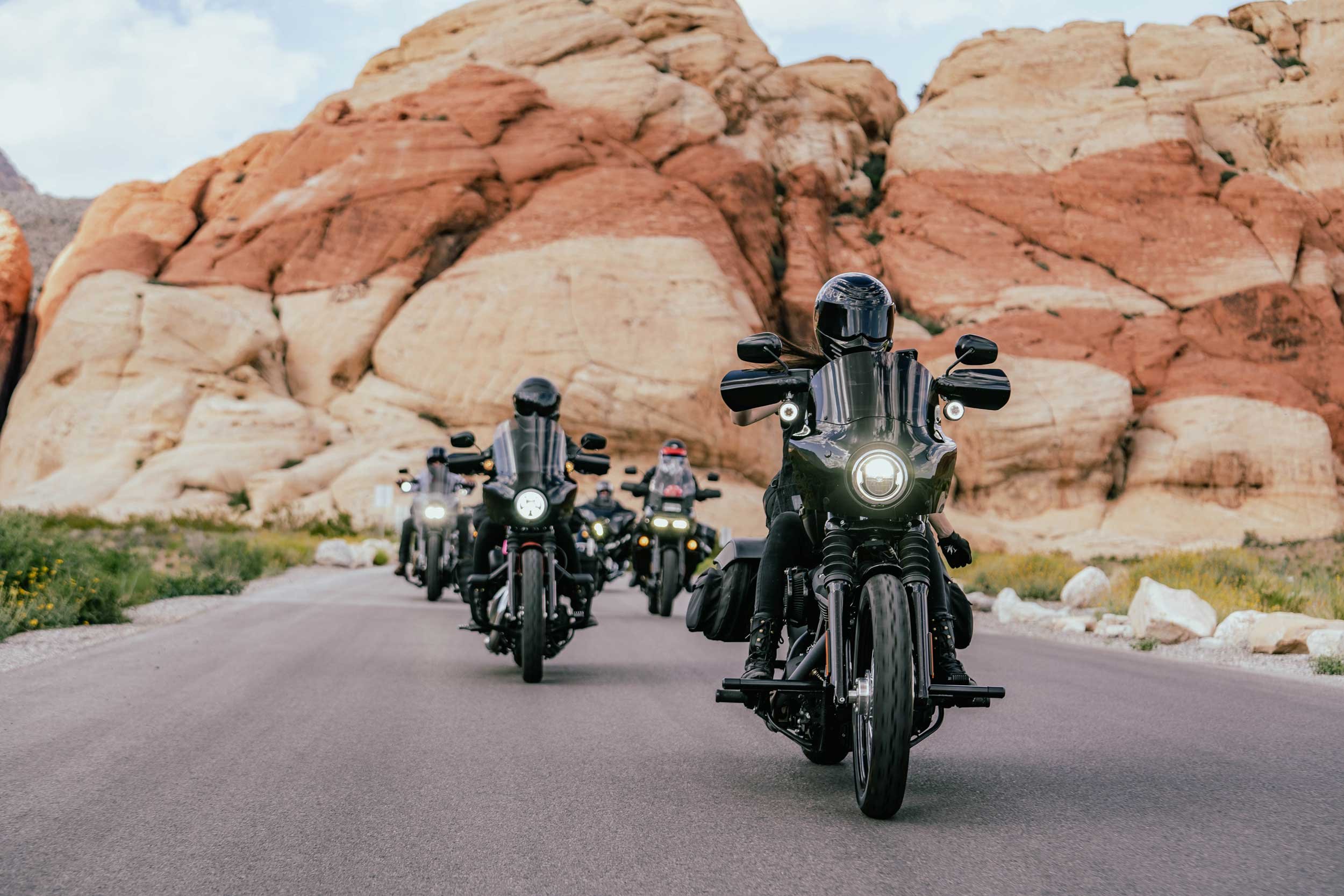 Discover the Best Motorcycle Routes for Your Next Adventure
No road trip is complete without a great route, and when it comes to motorcycle road trips, there are plenty of amazing options. Whether you're looking for scenic views, twisty roads, or historic landmarks, there's a route out there that's perfect for you.
Las Vegas Harley-Davidson is located in Las Vegas, Nevada, surrounded by some thrilling motorcycle routes in the region. Here are some of the best motorcycle routes near Las Vegas Harley-Davidson:
1. Red Rock Canyon National Conservation Area: Just a short ride west of Las Vegas, Red Rock Canyon offers stunning scenic beauty with its red sandstone cliffs and desert landscapes. From Las Vegas Harley-Davidson, take West Charleston Boulevard westbound to access the loop road within Red Rock Canyon. Enjoy the twists and turns of the road as you ride through the vibrant colors of the canyon.
2. Valley of Fire State Park: Located northeast of Las Vegas, Valley of Fire State Park is a mesmerizing destination known for its red sandstone formations and petroglyphs. From Las Vegas Harley-Davidson, head north on Interstate 15 and then take exit 75 onto Valley of Fire Highway. Explore the park's scenic roads, hike the trails, and take in the breathtaking views.
3. Lake Mead National Recreation Area: Lake Mead is a picturesque reservoir located east of Las Vegas, offering opportunities for water-based recreation and scenic riding. From Las Vegas Harley-Davidson, head east on Lake Mead Parkway towards the Lake Mead National Recreation Area. Cruise along Lakeshore Road and enjoy the views of the sparkling blue lake against the backdrop of desert mountains.
4. Hoover Dam: Ride to the iconic Hoover Dam, a marvel of engineering that spans the Colorado River between Nevada and Arizona. From Las Vegas Harley-Davidson, take Interstate 515 southbound to reach the dam. Marvel at the massive structure and enjoy the panoramic views from the various observation points.
5. Mount Charleston: Seek respite from the desert heat with a ride to Mount Charleston, a mountain oasis just northwest of Las Vegas. From Las Vegas Harley-Davidson, take U.S. Route 95 north and then exit onto State Route 157 (Kyle Canyon Road) to reach Mount Charleston. Ride through the scenic mountain roads, breathe in the fresh alpine air, and take in the stunning vistas.
These motorcycle routes near Las Vegas Harley-Davidson offer a mix of desert landscapes, mountainous terrain, and scenic wonders. Remember to check road conditions, weather forecasts, and any specific regulations before your ride. Enjoy the freedom of the open road and the natural beauty of the Las Vegas area!
To plan your route, you can use the H-D app, which offers maps, turn-by-turn directions, and points of interest along the way. The Homecoming™ Festival Map is another useful tool that can help you find the best routes and attractions into Milwaukee, WI.
No matter where you're headed, be sure to plan your gas stops and double-check that they're all currently open. It becomes a real adventure when you roll up on E and the pump is closed! You may also want to pack extra fuel to avoid this situation.
Pack Like a Pro: Get Your Motorcycle Tour Pack Ready
When you're on a motorcycle road trip, packing efficiently is crucial. You don't want to be weighed down by unnecessary gear or risk forgetting something important. Here's a packing list to get you started:
Riding gear (helmet, jacket, gloves, boots, rain gear)
Clothing (base layers, socks, underwear, jeans/pants, shorts, t-shirts)
Toiletries (toothbrush, toothpaste, shampoo, soap, sunscreen, bug spray)
Motorcycle tools (spare parts, tire repair kit, battery charger, first aid kit)
Camping gear (tent, sleeping bag, sleeping pad, camp stove, cooking utensils)
Entertainment (books, games, music, camera)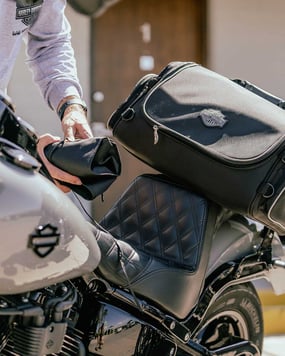 Remember to be prepared for all types of weather. Layers provide the best range of options, for example, short-sleeve shirt + long-sleeve or moisture-wicking shirt + sweatshirt + light jacket + heavy leather jacket. Layer up as it cools down or remove layers when it heats up. Pack rain gear and check the forecast before you leave. When it comes to gear that makes a difference, a comfortable and supportive seat, a windshield or fairing, and a Bluetooth communicator can all enhance your riding experience.
You know the gear you want to bring - but how much do you pack and where are you going to put it on your bike? Here are some tips for making the most of your limited space.
Be efficient! Think through the number of days you'll be on the road. Plan exactly what to wear each day to avoid overpacking. If you'll be on the road longer than a few days, consider packing half of what you need and washing your clothes so you can re-wear them.

Camping? Consider a mid-trip stop at the laundromat.
Staying in a hotel or Airbnb? Many hotels also have self-serve washing facilities (or laundry service if you're staying somewhere fancy!).

Roll (don't fold) your clothing. Rolling maximizes space in your pack or saddlebags
If you have saddle bags, use saddle bag liners or DIY bag - liners help contain and organize your contents. You can buy saddle bag liners that are the exact size of your saddlebags. For a DIY version, grab reusable cloth shopping bags from around the house or the back of your car from your last grocery trip.

Liners help you gauge how much space is available when you're away from your bike and inside your house/closet packing.
Liners slide neatly into your saddlebag when you load your bike.
Handles on the inserts are helpful for carrying your contents from your bike into your tent or hotel each night.

Use ziplock bags to organize your 'personal stuff' and clothing by day. Re-use the bags to contain your dirty clothes as the trip goes on or so you know what you need to wash if you have access to a washing machine along the way.
You have two saddle bags, group your items into 2 categories for organization and ease of access. Riders develop their own preference after a few road trips but we find this approach to be useful:

Saddlebag #1: Riding gear (extra jacket, rain gear, mid layer, 2nd pair of gloves, etc.) in one bag.
Saddlebag #2: Personal overnight items/clothing, laptop computer, etc. Speaking of computers - be sure to protect your computer by using a laptop case or packing the computer between clothing. If you have hard bags (fiberglass or plastic) prevent them from resting directly on the side/bottom of the bag. Computers are susceptible to damage with long periods of direct vibration in a saddle bag.
Once you've packed your gear, you'll want to make sure you have your bike's tools and accessories for the road.
Get Your Motorcycle Road Trip Ready: Service, Tool, and Accessory Checklist
Before you hit the road, it's important to ensure your bike is in top condition. Here's a checklist of bike adjustments and key service items you should take care of:
Oil and filter change
Tire pressure and tread check
Brake pads and fluid check
Battery test and charging
Chain and sprocket inspection
Lights and signals test
Suspension adjustment
In addition to these service items, you should also bring along a tool kit that includes essential tools and spare parts, such as a tire repair kit, spark plugs, fuses, and ZIP TIES.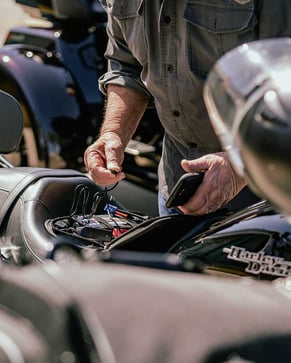 It's important to think through HOW and WHERE you are going to carry all of this gear on your motorcycle. Also how comfortable you want to be. Touring-style motorcycles come equipped with a fairing/windshield/saddlebags - but any motorcycle can be modified for long-haul road tripping. Here are some things to think about depending on the type of motorcycle you ride:
Saddlebags vs. Sissy bar bags. Saddle bags can be installed on nearly every type of motorcycle and come in a variety of styles and functions. Storage that is permanent or semi-permanently installed on your motorcycle can provide a sense of security and peace of mind that your belongings will be with you when you get to your destination!

Ask your accessory consultant at your dealership about the benefits of soft bags vs. hard bags.

Accessory Bags are essentially any style of pack or bag that can be strapped to your passenger seat, sissy bar or on top of your tour pack (if you have a tour pack). This can replace the need for saddle bags or be used as additional storage. This approach is typically more economical as you strap the bag to the bike using your own means like bungee cords.
If you have any questions about service or parts that you need to get ready for your trip, schedule an appointment with our service department.
Discover the Beauty of America's National Parks on Your Next Motorcycle Road Trip
America's national parks are some of the most stunning and iconic natural landscapes in the world, and a motorcycle road trip is the perfect way to explore them.
Here are 3 national parks worth visiting from Las Vegas Harley-Davidson: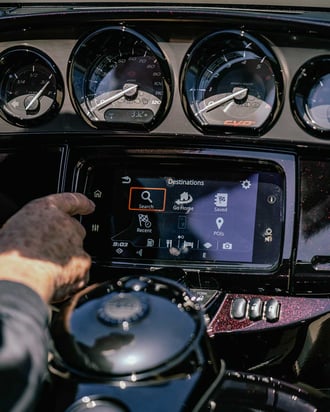 Death Valley National Park: Located approximately 2 hours west of Las Vegas, Death Valley National Park is known for its stark desert landscapes, salt flats, sand dunes, and rugged mountains. It offers a unique and otherworldly experience with its extreme temperatures and diverse geology.

Zion National Park: Situated approximately 2.5 hours northeast of Las Vegas, Zion National Park is a stunning natural wonder characterized by towering sandstone cliffs, deep canyons, and verdant forests. The park features numerous hiking trails, including the famous Angel's Landing and The Narrows.

Grand Canyon National Park: Although not as close as the other two, Grand Canyon National Park is still within a reasonable distance from Las Vegas, located about 4 hours to the east. It is one of the world's most famous natural wonders, boasting awe-inspiring views of the immense canyon carved by the Colorado River.
Once you've got your destination picked out, here are some tips for visiting national parks on your motorcycle road trip:
Get a national park pass, which gives you access to all national parks and federal recreational lands for one year. Without one, it usually costs $15-$35 for motorcycles
Research gas stops near the park.
Consider camping in or near the park to fully immerse yourself in the experience.
Some of the most popular national parks to visit on a motorcycle road trip include Yosemite, Yellowstone, Grand Canyon, and Zion. When planning your trip, be sure to check park regulations and closures, as well as any required permits for camping or backcountry travel.
Moto Camping: Our Favorite Gear and Where to Stay
Motorcycle camping has become a popular way to travel across the country on two wheels. Although its historic roots go way back, moto camping has evolved over the years and there are a few things you'll want to consider.
If you plan on camping on your motorcycle road trip, there are a few things you should consider. First, make sure you have the right gear, including a lightweight and compact tent, sleeping bag, and sleeping pad. You may want/need a small camp stove and cooking utensils, as well as a water filter or purification tablets.
Here are some of our favorite items:
Jetboil or small cooking stove
Big Agnes Bicycle tent
All-in-one camping utensil
Compact summer sleeping bag
Sleeping pad
Headlamp
Flops / Disposable slip-on shoes
Dry Towel
Utility knife
Solar Rechargeable battery pack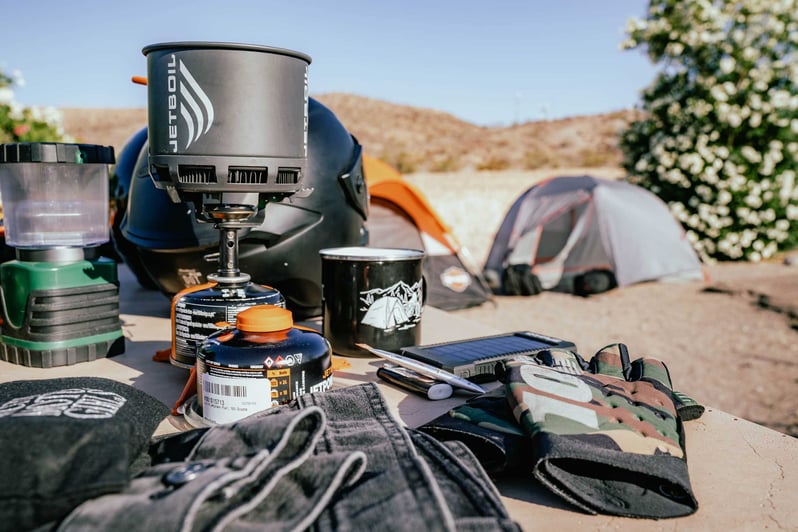 As for where to stay, there are many options for motorcycle camping, from established campgrounds to backcountry sites. KOA campgrounds are a popular choice, as they offer amenities like showers, laundry, and Wi-Fi. National park campgrounds are also a great option, as they often have stunning views and easy access to hiking trails.
If you decide to go this route, it's a lot of fun with friends, but can still be an awesome adventure solo. There are many inspirational people out there on YouTube sharing their adventures and their tips and tricks for solo travel.
Check out these moto bloggers for some inspiration:
Road Trip Tunes: The Ultimate Motorcycle Ride Playlist
No road trip is complete without a great playlist, and a motorcycle road trip is no exception. Here are some playlists we love for the open road: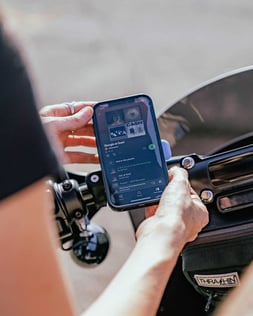 Of course, everyone's taste in music is different, so don't be afraid to ask your community for their favorite riding tunes. Planning a ride with your friends? Create a shared playlist for everyone to build out prior to leaving. It's a good way to get hyped for your upcoming trip AND discover new music to ride to!
Motorcycle Rally Roundup: The Must-Attend Events for Every Rider
If you're looking for a way to connect with other riders and experience the thrill of a motorcycle rally, there are plenty of options to choose from. Here are some of the must-attend events for riders in 2023:
- Daytona Bike Week, Daytona Beach, Florida
- Harley-Davidson Homecoming™ Festival, Milwaukee, Wisconsin
- Sturgis Motorcycle Rally, Sturgis, South Dakota
- Laconia Motorcycle Week, Laconia, New Hampshire
- Bikes, Blues and BBQ, Rogers, Arkansas
Be sure to check with Las Vegas Harley-Davidson for more information about more localized dealership events and local rallies in your area. These events are a perfect time to link up with friends and plan rides to and from the event.
---
Before we wrap up, here are a few additional tips to help you make the most of your motorcycle road trip:
Be prepared for inclement weather. Pack rain gear and warm layers, and check the forecast before you leave.
Plan your route carefully, taking into account your riding ability and any time constraints.
Take breaks frequently to stretch your legs and avoid fatigue.
Stay hydrated and well-fed to maintain your energy levels throughout the ride.
Bring a disposable camera for a fun way to capture memories of your trip.
By keeping these tips in mind, you'll be able to enjoy the freedom and exhilaration of a motorcycle road trip without any unnecessary stress or complications.
A motorcycle road trip is an experience unlike any other, offering the opportunity to explore new places, meet new people, and push your limits as a rider. With a bit of planning and preparation, you can make your next motorcycle road trip a success and create memories that will last a lifetime. So get out there and hit the open road – the adventure awaits!