SHOP TALK: The Importance of Harley-Davidson Maintenance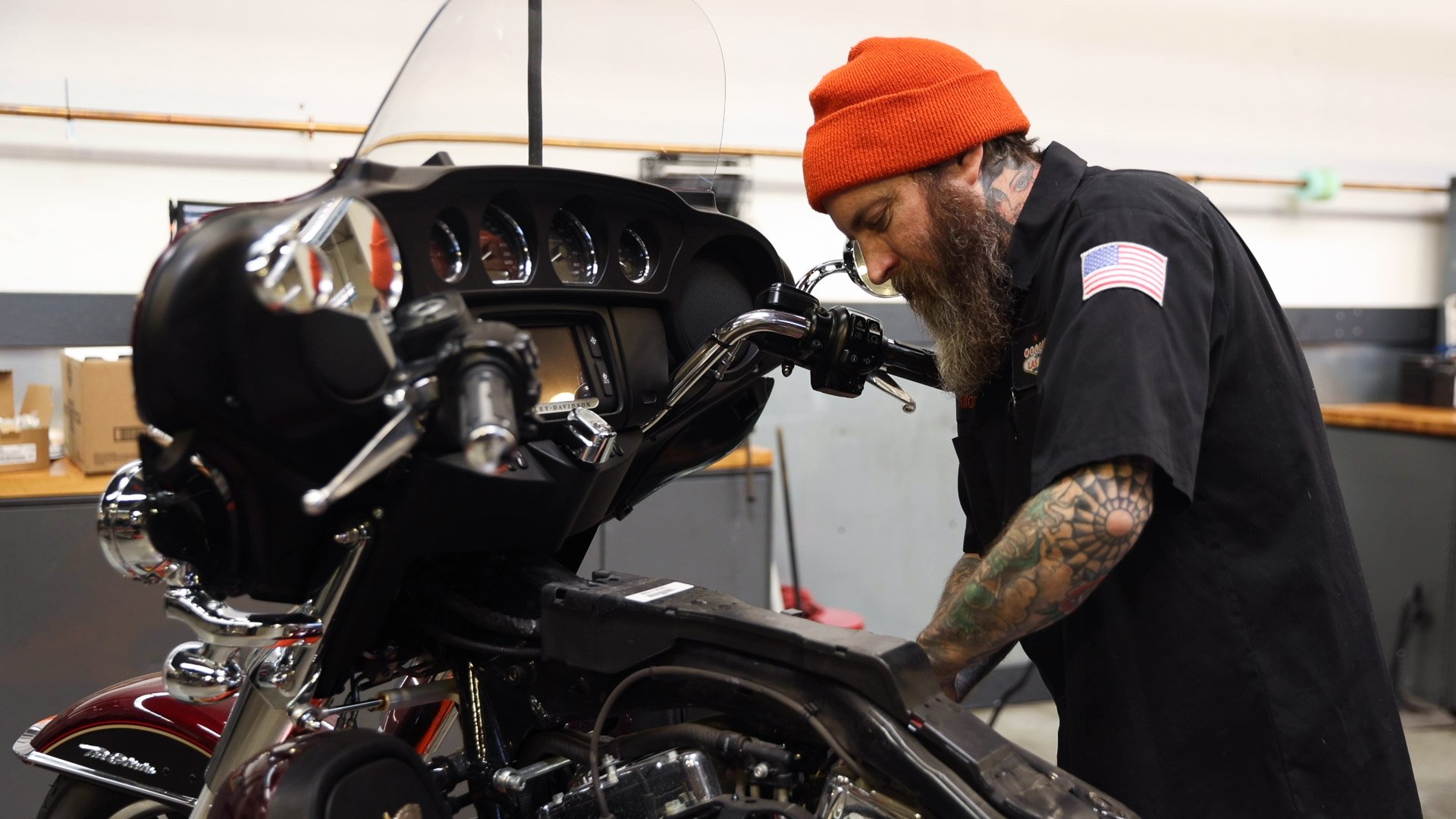 Harley-Davidson Maintenance is something every owner has to think about whether you've owned your bike for years or even decades, or if you have just purchased a new/used ride. No matter where you fall on the range of knowledge when it comes to motorcycle maintenance, we aim to make it easy for you. This article is meant to be a starting point and send you in the right direction of some key information for maintaining your bike. So let's jump right in and start with your motorcycle owner's manual, a.k.a. MOM.
Owners Manual for
maintenance
on your
Harley-Davidson
Whenever you have a question about your Harley-Davidson maintenance, there is an abundance of information to be found in your Owner's Manual. Each new Harley-Davidson will come with one specific to your year and model but you can also look up your bike's VIN to find downloadable versions through the Harley-Davidson service information website.
You will also find key information on things like:
Key parts of your bike

Bike

specifications

regarding tires, weights and dimensions, and capacities (think fuel, oil, coolant, etc)

Checking tire pressure and inspecting tires, tread wear

Storing your bike and removing the bike from storage

Pre-Ride Checklist

Preload adjustment

Warnings for fueling and specifications

Suspension and adjustments with operating characteristics and probable causes

Security system and FOB information

Setting a PIN

Transport mode

Important operating information

Cleaning and general care information

Inspecting the bike for leaks and wear

Battery replacement

General troubleshooting

Harley-Davidson factory warranty information

Break-in Riding Rules
It's a good idea to read through the owner's manual before use. Again, no matter your familiarity with Harley maintenance, you are given a great resource right from the start.
For those that have a used bike or older model, there's a good chance you've already surpassed the break-in period. Anyone about to ride a new bike should plan for the Harley-Davidson break-in period. You can either find details in your owner's manual, or talk with your dealership technician.
What is the Harley-Davidson break-in period?
The sound design, quality materials, and workmanship that is built into your new Harley-Davidson will give you optimum performance right from the start. We ask that for the first 500 miles (800 km) to wear in critical parts, please observe the simple riding rules below. This will assure future performance and durability.
Avoid hard braking during the first 200 miles.

Up to 500 miles (800 km), vary the engine speed and avoid any steady speed for long distances. Engine speed up to 3000 RPM is permissible in any gear. (Varies by engine.)

Avoid fast starts at wide-open throttle. Drive slowly until the engine warms up.

Avoid running the engine at extremely low RPM in higher gears.
This will set your bike up for the rest of its life. That is also why the first service on a bike is more than just an oil change.
1,000-mile Service on a Harley-Davidson
The first service in your Harley-Davidson maintenance schedule is the break in service at 1,000 miles. This service is important. Our Harley-Davidson trained service technicians cover these critical items in this first service:
Replace engine oil and filter

Check tire pressure and inspect tread

Inspect oil lines and brake system for leaks

Check primary chain adjustment

Inspect air cleaner and service as required

Check tightness of wheel spokes

Replace transmission lubricant

Check clutch adjustment

Inspect rear belt and sprockets and adjust belt

Check, adjust, and lube throttle, brake enrichers and clutch controls

Inspect and lube jiffy stand

Inspect fuel valve, lines, and fittings for leaks

Check brake fluid levels and condition

Inspect brake pads and discs for wear

Check spark plugs

Adjust steering head bearings

Check operation of electrical equipment & switches

Check & adjust engine idle speed

Inspect shock absorbers

Check tightness of critical fasteners

Road test
As you can see, this is a big service on the Harley-Davidson maintenance schedule. In turn, if you miss out on any of these key touchpoints, you're not getting the best for your safety, the performance of the bike, and the life of your new ride. Once you're past this key service checkup, the next service intervals can be found in the Owner's manual.
Your
Harley-Davidson Maintenance
Schedule
If you want to know everything that goes into each service throughout your Harley-Davidson maintenance schedule, you can find those details in the Owner's Manual. Each interval after the first 1,000-mile service is at the next 5,000-mile mark. For more information about each interval service, check your Owner's Manual.
There's a lot more Harley maintenance that goes into these service intervals and it's important to get your motorcycle into an authorized dealer. The certified technicians that go through your bike from front to back, will make sure that your bike is serviced, safe to ride, and then they keep all records for you.
Why would you care about service records? Well for one, it's good to keep up with the history of your bike, but then it is also important for the value of your bike. Coming into an authorized dealer ensures that throughout the life of your bike, the value is kept, that whether you plan to keep it forever or eventually want to trade/sell, you have all the records that show your machine has been well taken care of.
To make regular service a no-brainer, we offer our VIP service, with unique benefits and only available to our dealership's customers.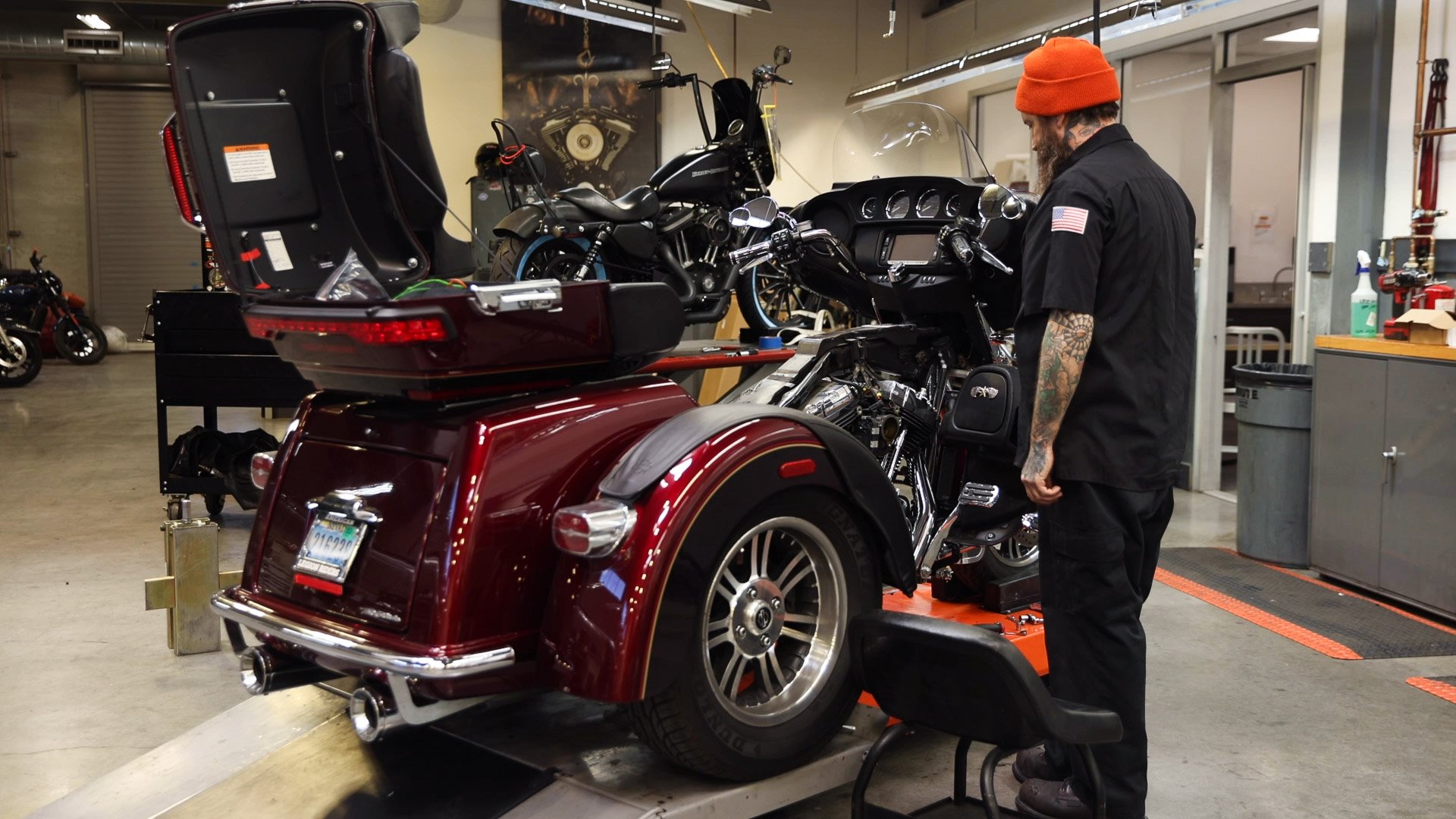 The H-D Factory Warranty
The Harley-Davidson factory warranty is 24 months, has unlimited miles, and initiates upon the purchase date and delivery OR 2 years after the Model Year launch. It requires the owner to keep up with their Harley-Davidson maintenance schedule at the prescribed mileage intervals.
It's a good idea to keep your receipts for any parts, service and maintenance performed on your Harley so that you can transfer them to a new owner in the future. If you are regularly servicing your bike at your dealership, then they are keeping records of your bike for you. The warranty is only for Harley-Davidson manufactured parts, so be wary of installing parts from other manufacturers and always check with your authorized dealer before.
For full details on the warranty, exclusions and how to obtain warranty service, refer to your owner's manual.
Why do your Harley-Davidson maintenance at a dealership?
Harley maintenance, no matter what anyone's level of experience in motorcycle knowledge, requires skill, an extensive set of tools, and resources. Not only are our certified technicians equipped with hundreds of thousands of dollars in tools that stay regularly maintained, but they keep their certifications through yearly in-person training and monthly digital training on all things Harley-Davidson motorcycle maintenance.
Not every mechanic out there is working with tools like a Dynamometer, engine hoists(specific to engine), engine stands, lifts, digital technician, battery tester/charger, bearing installer, seal drivers(Multiple), cam tools, tire machines, wheel balancers, wheel bearing installer/pullers, service manuals, terminal crimps, multimeters, alignment tools, etc.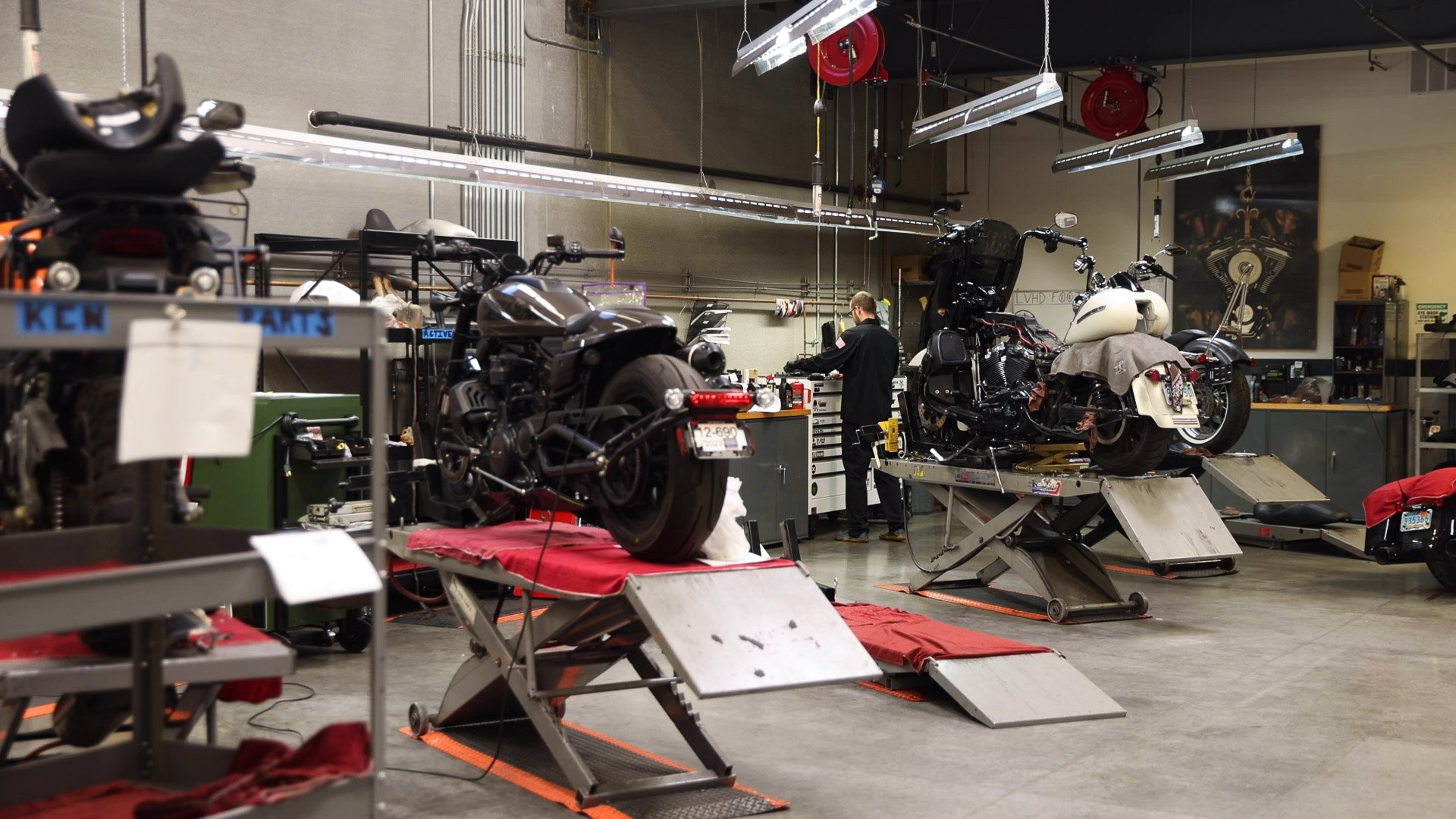 Not only do they have all the tools to take care of your motorcycle maintenance, they're also able to get parts you've purchased installed at the same time. Performance is these guys' favorite thing to do and customizing customer bikes can be done whilst getting your bike in for regular service.
By getting your motorcycle maintenance done by our certified technicians, your ensuring your bike's life, keeping its value, and most importantly, making sure that you are safe on your machine.
There are other options and we see it all the time when outside jobs come back to the shop. In our opinion, it's better to do it right the first time.
Common Issues with Harley Maintenance
As an authorized Harley-Davidson dealership, we are always going to recommend taking the best care of your motorcycle as possible by letting our certified technicians keep your bike safe, at its best performance, and keep you on the road. But, not everyone chooses this with their bike.
We asked our techs what are some of the things that they see coming through the doors from people that don't regularly keep up with their Harley-Davidson maintenance. Any one of these things could cause for a sloppy ride, be unsafe, and lead to more problems if left unrepaired.
Common issues we see:
Missed factory recalls

Steering head bearings out of adjustment

Belt out of adjustment

Burnt out clutch

Worn out brakes

Tire wear

Brake fluid condensation causing brake fade

Loosened critical fasteners

Low tire pressure
Instead of having to worry about these things and other wear on your bike, scheduling your key service intervals with your dealership will ensure you're maintaining your Harley-Davidson at its best.
Las Vegas Harley-Davidson Service Department
Las Vegas Harley-Davidson's H-D certified service technicians are highly trained, have years of experience, and work exclusively on Harleys, so they know what it takes to effectively service and upgrade your bike. All our service staff are motorcycle riders and enthusiasts and make it a point to foster a welcoming and inclusive sense of community for all our customers.
Las Vegas Harley-Davidson "Same day service guarantee"
We understand the importance of getting your ride back on the road as soon as possible, so we offer a unique in the industry "Same Day Service Guarantee" on select maintenance services and installs – in and out in 24 hours, or your next oil change is on us!*

Pick-Up & Delivery Service
For your convenience, we offer pick-up and delivery services for your motorcycle service appointment within a 50-mile radius of the dealership. When you have your bike serviced at Las Vegas Harley-Davidson, our talented service staff will not only ensure that your motorcycle leaves running smoothly, but that it looks its best with a complimentary and thorough bike wash.
Ask a Harley-Davidson Maintenance Tech
Our dealership service departments are more than just a place for your Harley-Davidson maintenance. We aim to be a resource to our customers for all things Harley-Davidson. From bike maintenance, to gear, to parts, to community and extended family. Because, when you buy a bike from our dealership, you become one of our family and we want to extend an invite for you to ask our certified technicians any questions you may have about your Harley-Davidson motorcycle.
We're going to be answering our customers' questions and continuing to provide resources in our blog and newsletter. Got a weird noise? Not sure if you put a part on right? Come chat with our techs and we'll get you a diagnosis!
SUBMIT YOUR QUESTION