The New H-D Electric Motorcycle, the StaCyc, Lets Kids Enjoy Harleys Too
Bike Spotlight: StaCyc H-D Electric Motorcycle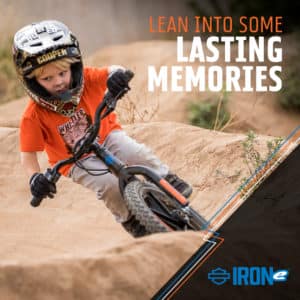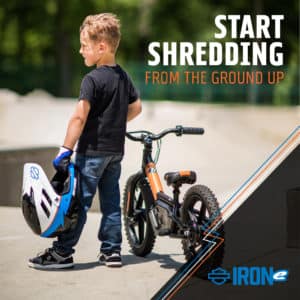 StaCyc EDRIVE models are now proudly part of the H-D electric motorcycle family, thanks to Harley-Davidson's recent acquisition of StaCyc. Now, the next generation of riders can start enjoying life on a Harley-Davidson too. Imagine cruising to the park or through the neighborhood with the entire family proudly sporting their very own Harley-Davidson motorcycle. One look at the StaCyc will make you wish you could go back and relive your childhood on this awesome machine.
StaCycs, or stability cycles, are electric pedal bikes for children. These ingenious devices bridge the gap between a pedal bike and a bicycle or motorcycle, giving young ones a chance to learn how to ride on two wheels without feeling intimidated. In fact, their ease of use makes it simple for kids to learn how to ride a bicycle and motorcycle at the same time. StaCyc EDRIVE models open up opportunities for young children to develop a love and passion for riding.
StaCyc EDRIVE models feature:
Quick-change, powerful lithium-ion batteries that charge in less than an hour and hold their charge for approximately an hour

A single, non-powered mode for momentum via pedaling

Three power modes for learning and growth, including Training, Standard and Advanced

A lightweight design that presents children with an easy to maneuver ride
Check out the StaCyc H-D Electric Motorcycle at Las Vegas Harley-Davidson
It's never too early to introduce your children to Harley-Davidson. Get the kids away from the screen and out onto the open road with StaCyc H-D electric motorcycle models for kids. Bring your little ones by Las Vegas Harley-Davidson today to take a test ride! For more information on this and other bikes in our inventory, contact us at 888-218-0744 or stop by our showroom on the Las Vegas Strip.
Dealership Info

Phone Numbers:

Sales Hours:

Mon - Sat

9:00 AM - 6:00 PM




Sun

10:00 AM - 5:00 PM




Service Hours:

Mon - Sat

9:00 AM - 6:00 PM




Sun

10:00 AM - 5:00 PM




Parts Hours:

Mon - Sat

9:00 AM - 6:00 PM




Sun

10:00 AM - 5:00 PM